Popular Searches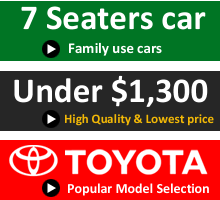 Choose by Make
Why should you choose JapanCarsDirect.com?
METEOR Quality Standard A Strict 120 Points inspection on every vehicle.
We only pick out of the best condition vehicles to be listed on JapancarsDirect.com. The vehicle listed ensure to meet "Meteor Quality Standard" with "120 Points of Quality Inspection" performed by professionals. The inspection contains both mechanical and appearance.
" Ensure your vehicle is perfectly driving when received "is our commitement.
We are confident that the inspection program, carried out by Japanese professional mechanics, ensure all the vehicles be ready to have a pleasant drive at the destination port.
120 Points Inspection
Listed below are the 120 checkpoints.
Only vehicles that pass all 120 checkpoints can be sold on JapanCarsDirect.com
Driving Test
Starting Cold/Hot
Engine Idle Quality
Engine Performance/Smooth Acceleration
Engine Noise (Cold/Hot and High/Low Speeds)
Automatic Transmission/Transaccelerator Noise (Cold/Hot)
Automatic Transmission Shift Points/Slippage (Operational/Smooth/
Proper Shift Points/Check at all shift points)
Shift Interlock (Operation)
Drive accelerator and Transfer Case Bearings or Gear Noise/Vibration
(Adjust or Replace)
Transfer case (Proper switch between 2WD and 4WD)
Clutch Operation (Smooth Engagement/Slippage/Chatter)
Steering/Rack and Pinion/Steering Linkage Performance (Steering
Wheel Free Play/Center Steering/Response/Smoothness)
Brakes/ABS (Effectiveness/Operation/Noise/No Pulling or Pulsating)
Note: ABS may pulsate under hard application which indicates proper operation.
Cruise control operation (Including Resume)
Gauge/Speedometer/Tachometer/Odometer (Operation)
Body/Suspension (Performance/Noise/Rough Road Test)
Body
Frame/Body


Frame Inspection (check for repairs, damage, abnormal tire wear, inability to obtain proper alignment specifications.)Note: Overall vehicle inspection should take place at this point for rust and damage due to some natural disaster. Look under carpet in trunk, interior and under dash for flood damage.
Body Panels (check for damage, dings, dents, alignment, mismatched paint and overall paint condition.)
Bumpers/Fascia (check for damage, alignment and improper repairs.) Note: Slightly mismatched paint is fairly common on some vehicles with plastic bumpers.
Doors/Hood/Trunk/Tailgate (check release mechanisms manual/automatic, hinges, alignment and proper attaching devices.) Note: Bolts and over spray are indications of damage repairs. Grill/Trim/Molding/Roof Rack (check for bends, dings, parts missing and proper attachment.)
Glass/Mirror/Wiper and Washer Condition
Windshield (Damaged, pitted, repaired, wiper marks, cracked)
Side/Rear Windows (Damaged, pitted, repaired, cracked)
Mirrors (Condition of mirror, hinge, operation)
Wipers (Condition of mechanism/blade)
Wipers (Operation/Speeds/Delay)
Washer (Fluid Level/Spray Pattern)
Exterior Lights


Head Lights, High/Low Beams (Alignment/Lens Condition/Operation)
Tail Lights (Lens Condition/Operation)
Brake Lights/High Mount Brake Light (Lens Condition/Operation)
Parking Lights (Lens Condition/Operation)
Hazard Lights (Lens Condition/Operation)
Reverse Lights (Lens Condition/Operation)
Turn Signal/Side Marker Lights (Lens Condition/Operation)
License Plate Lights (Lens Condition/Operation)
Fog/Driving Lights (Lens Condition/Operation)
Interior
Air Bag/Seat Belts
Seat Belts (Condition/Operation)
Air Bag (Exterior Condition/Intact/No Codes/Dash Light Operation) Note: When inspecting the air bag system, look carefully at the steering wheel for abnormal wear (could indicate vehicle has been repaired and a used steering wheel and air bag has been used).
Audio/Alarm Systems
Audio System - Radio, Cassette, CD, Speakers (Condition/Operation)
Antenna (Condition/Operation)
Navigation System (Operation)
Alarm/Theft Deterrent System (Condition/Operation)
Interior Amenities
Clock (Condition/Operation)
Horn (Condition/Operation)
Lighter/Power Outlet(s) (Condition/Operation)
Ashtray (Condition/Operation)
Glove Box/Glove Box Light/Center Armrest/Console (Condition/Operation)
Tilt/Telescopic Steering Wheel (Operation)
Steering Wheel Lock (Operation)
Mirrors/Rear View (Condition/Operation)
Instrument Panel/Lights and Warning Lights (Condition/Operation/Bulb Check)
Warning Chimes (Operation)
Interior Courtesy/Dome/Map Lights (Operation)
Fuel Filler Door Release (Operation)
Interior Door Handle (Operation)
Interior Trim/Carpet/Floor Mats
Carpet (Condition/Appearance)
Floor Mats (Condition/Appearance)
Door Trim/Panels (Condition/Appearance/Attachment)
Headliner (Condition/Appearance)
Sun Visors (Condition/Appearance/Vanity Mirror and Light)
Luggage Compartment/Trunk/Truck Bed
Luggage Compartment Mat/Trim/Carpet/Cargo Net (Condition)
Luggage Compartment Light (Operation)
Jack/Tools (Condition)
Seats
Seat Upholstery (Condition/Worn/Ripped/Cracked/Faded)
Seat/Headrest Adjustments (Manual/Automatic Operation)
Heated Seat (Operation)
Sunroof/Moonroof/Convertible Top
Sunroof/Moonroof (Condition/Operation)
Convertible Top (Condition/Operation/Rear Window and Zipper Operation)
Convertible Top Boot (Condition)
Window/Door Lock Operation
Door Locks/Controls (Manual/Automatic Operation)
Child Safety Locks (Operation)
Windows/Controls (Manual/Automatic Operation, Locks)
Powertrain
Engine Mechanical Condition
Fluid Leakages (Record where and what is leaking)
Oil in Air Cleaner (Can indicate excessive blow by or faulty PCV system)
Water in Oil (Check underside of oil filler cap)
Inspect Timing Belt (Condition: Change per maintenance schedule)
Fluids (Condition/Levels)
Belts (Condition)
Hoses (Condition)
Wiring (Condition)
Engine Mounts (Condition)
Cooling System
Hoses (Condition)
Coolant (Condition/Level/Leaks/Freeze Point/Voltage - Corrosion)
Radiator (Condition/Pressure Checked/Tube/Fins)
Cooling Fan/Fan Clutch/Fan Motor (Condition/Operation/Auxiliary Fan Operation
Water Pump (Noise/Leaks)
Pressure Test Cap/System
Recovery Tank (Condition/Fluid Level/Sensor Operation)
Belts (Condition/Cracks/Glazed/Frayed/Proper Adjustment)
Fuel System
Fuel Pump Noise/External Fuel Pump Leakage
Fuel Lines/Hoses/Pressure (Leaks/Record Reading)
Fuel Filter (Condition/Replace per Maintenance Schedule
Air Filter (Condition/Replace per Maintenance Schedule)
Electrical System
Starter Operation (Record Starter Draw - Amperage)
Alternator/Charging (Record Regulated Voltage/Maximum Amperage Output)
Ignition System (Operation/Scope)
Battery (Condition/Fluid/Level/Load Test - Record Readings)
Check Pre-Glow System (Amperage Draw - Diesel)
Exhaust System
Transmission System (Condition)
Automatic Transmission/Transaccelerator Fluids (Condition/Level/Leaks/Fill or Change Oil and Filters)
Manual Transmission/Drive accelerator/Transfer Case Fluids (Condition/Level/Leaks/Fill or Change Oil)
Transmission Mounts (Condition/Cracked/Oil Soaked/Broken/Replace Worn Mounts)
Universal Joints/CV Joints/Boots (Condition)
Differential/Drive accelerators (Condition/Leaks/Damage)
Clutch (Adjustment/Fluid Level)
Suspension/Steering
Fluid (Condition/Level/Leaks/Top off as necessary)
Rack and Pinion/Steering Linkage (Condition/Leaks/Boots)
Power Steering Pump and Hoses (Leaks/Noise/Operation)
Suspension System/Control Arms/Ball Joints/Bushings (Condition)
Tie Rods and Idler Arm (Operational to Factory Specifications)
Springs (Vehicle Ride Height/Check for Spring Sag)
Struts/Shocks (Leakage/Bounce Test)
Brakes
Brake Fluid (Level/Condition/Top Off as Necessary)
Pads/Shoes (Condition/Wear/% Remaining/Replace Linings if Necessary)