Popular Searches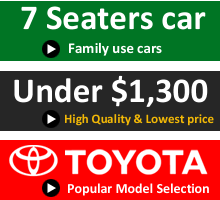 Choose by Make
Customers voice Testimonial
Voice of Customers around the world.
Selling over thousands of quality vehicles every year and every where, we receive many thanks letter from customers. Here we show some of letters for you to know why our customers felt so much satisfaction with buying from us.

We always listen customer's voice carefully and try keeping and improving our service better for customer satisfaction! Kindly send your comments to sales@JapanCarsDirect.com

from ZAMBIA
1 October 2023: We have 17 testimonials from the world
Toyotya Noah

Buyer:Zambia Date:2013-12-29
Dear James Happy Christmas! I received my Noah last week. It was so good that my Dad enjoy driving it now. My co-worker is also seeking similar vehicle for his family. I gave him your website contact so that he will contact you. Have a nice vacation. Cheers. Frank Lusaka, Zambia
2000 Jeep Wrangler

Buyer:Zimbabwe Date:Aug / 03 / 2013 (JST)
I am very pleased with the condition of the car and the price that I paid for it. The transaction went well and any concerns that I had were soon sorted out with Yui. I can recommend this seller to anybody looking to buy a car with confidence.
2005 Nissan Elgrand

Buyer:New Zealand Date:Jul / 24 / 2013 (JST)
very happy with the car would buy from them again with no worries 10/10 thank you very much
2002 Mazda Atenza

Buyer:Zimbabwe Date:Jul / 12 / 2013 (JST)
I received my vehicle in a very crisp condition.
everything was in good working order and nothing was missing.
great service guys. keep up the good work. special mention to Yui for constant updates on progress.
2003 Toyota Mark II Blit

Buyer:Tanzania Date:Jul / 09 / 2013 (JST)
ts really wonderful to work with you,I have really being treated as the as the special customer as the people do really care about the welfare of their customer, whenever i was having the query it was quickly solved by them, though at first i was worried much but finally i found it very easy to buy the item through this web .
1999 Mitsubishi Pajero Mini

Buyer:Guatemala Date:Jul / 02 / 2013 (JST)
Muy bien
2006 Nissan Wingroad

Buyer:Myanmar Date:Jun / 29 / 2013 (JST)
I've received the car in very good condition. Thank you very much.
I'll buy more from you. I recommend this seller to every buyer. Myo Win
1998 Suzuki Jimny

Buyer:Ethiopia Date:Jun / 20 / 2013 (JST)
iam really satisfied with this seller in every aspect.
2004 Toyota Wish

Buyer:Myanmar Date:Jun / 12 / 2013 (JST)
Very good car ,I am also satisfied with good communication and quick shippment.
2002 Toyota Noah

Buyer:Zambia Date:Jun / 10 / 2013 (JST)
Hi, For item description.I cant comment on this because i havent seen the car yet.
Then on the DHL you forgot to indicate my number so it took time for me to correct it.
2006 Mitsubishi Lancer Van

Buyer:Trinidad and Tobago Date:May / 09 / 2013 (JST)
except for a small scratch on the back of car everything was fine. good quality car shipped in good time
2007 Toyota Passo

Buyer:Myanmar Date:Apr / 06 / 2013 (JST)
I received the car with satisfied condition.Thank you. Best regards, Myo Than
2003 Subaru Legacy B4

Buyer:Cayman Islands Date:Apr / 05 / 2013 (JST)
Communication is vital,especially for first time buyers who wouldn't have enough information about the seller and the whole process.
1998 BMW 3 Series

Buyer:ZIMBABWE Date: Mar / 22 / 2013 (JST)
sorry for the late response, but the service l recieved from both the seller and Tradecarview....it was just excellent. Wataru the car owner and l developed a friendship-l even recieved chocolates from him! l am most satisfied with my purchase...such that on my second purchase...the decision to deal with you was an easy one
2006 Nissan Wingroad

Buyer:KENYA Date: Mar / 11 / 2013 (JST)
The car was delivered on time and in superb condition. The seller was honest and always prompt in communication. I strongly recommend the seller to other buyers.
2003 Toyota Wish

Buyer:MYANMAR Date: Mar / 09 / 2013 (JST
Quickly shipment!! Great Deal!! You can trust the seller..
2003 Toyota Mark II Blit

Buyer:SWEDEN Date: Jan / 30 / 2013 (JST)
No problem. The car was in expected condition.